India captain Virat Kohli is known to have a solid relationship with his former skipper MS Dhoni. The camaraderie between the two Indian skippers has often been viewed as the reason behind the smooth transition in the Indian team when Dhoni stepped down as captain and Kohli took over.
Dhoni, during his era as captain, went on to become the only skipper in history to win all three ICC trophies – the 2007 T20I World Cup, the 2011 ODI World Cup, and the 2013 Champions Trophy. So, many wondered how would Team India fare once he steps down from the role.
Also read: Akmal explains why the mindset of 'Indian cricket is commendable'
But Kohli has proved himself as a true leader, and under his captaincy, Team India have only gone strength from strength. While there are some critics who point out that India have not won an ICC trophy under Kohli yet, and wonder if the team should employ a split-captaincy across formats, Kohli has time and again shunned those voices by delivering with the bat and getting results.
Now, as India gear up for the ICC World Test Championship final against New Zealand which takes place next month, Kohli, who is currently under lockdown, decided to host a Q/A session on his Instagram page.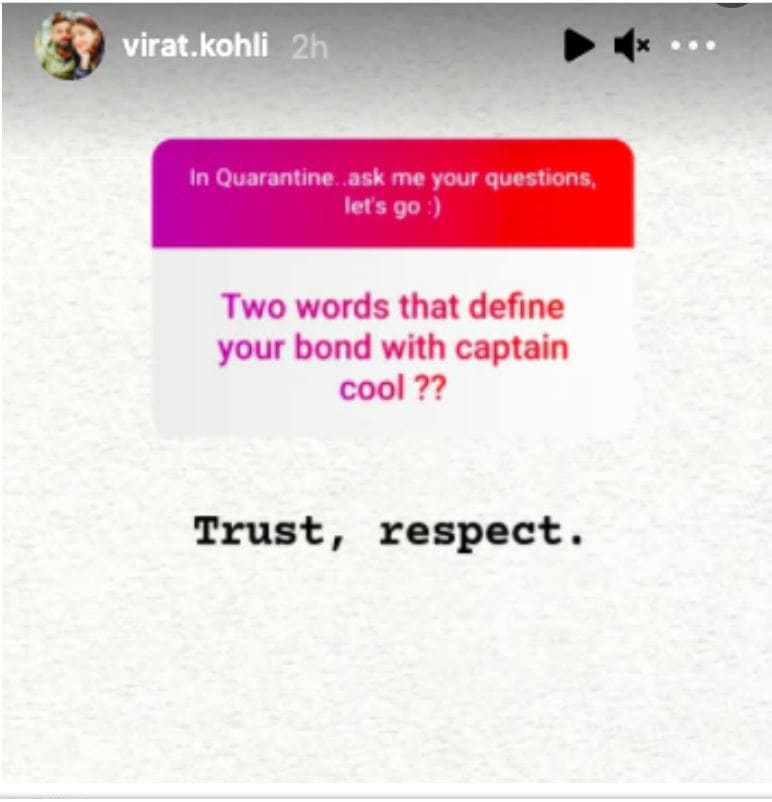 One of the fans asked Kohli to describe his bond with Dhoni in just two words. Kohli gave a heartwarming reply to the question: "Trust, respect," Kohli wrote.
After the World Test Championship final, Kohli's India will face off against England in a five-match Test series. The last time India had travelled to England, they had lost the Test series 4-1, but Kohli had emerged as the leading run-getter in the series. The fans will hope he can deliver the same this time around as well.